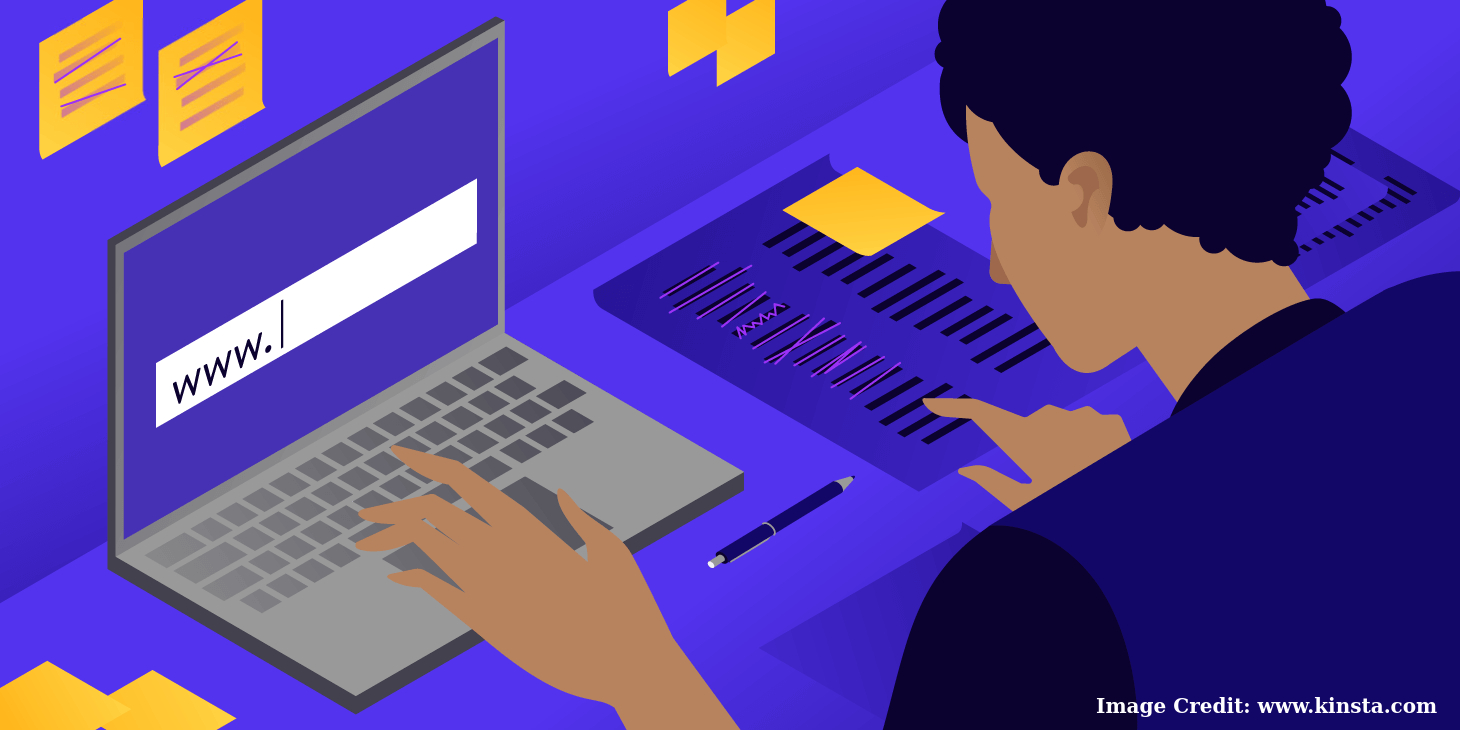 Complete Guide to Domain Registration in India
There are various domain registrars in India from where you can buy your domain name. Before going into detail you should understand what a domain is and the purpose of using domain etc. Let's discuss this in detail:
What is a Domain Name?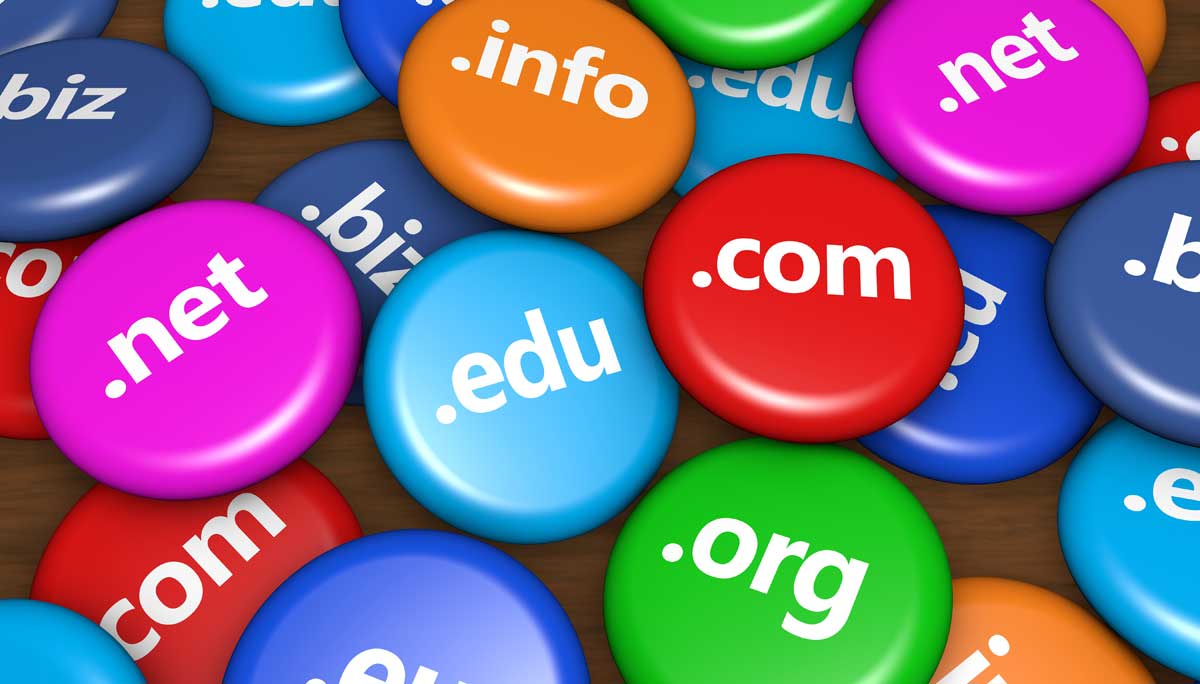 A domain name is the name of your website. A domain name is an address through which users can access your site. A domain name helps in searching and identifying the computers on the internet. Before the invention of the domain name, we were using IP addresses but it was difficult for a human to remember these series of numbers that's why domain names were developed. With the invention of the domain name, it became easy for humans to remember website address.
Domain names help to find identities of entities on the internet rather than using IP addresses. A domain name can be used with various combinations of letters and numbers and also can be a combination of any extension such as .com, .org, .net and many more.
Before using the domain, it must be registered. Every website has a unique domain name. No two websites can have an identical domain. For example, www.yourdomain.com this domain name will be allocated to only one website owner.
Why do we need a domain name?
As we know each computer system has a unique IP address associated with it but remembering these series of numbers are difficult for us. That's why computer scientists created a unique domain name to allocate to each numeric IP address. Here, we have mentioned some points that can help you to understand why it is important:
# Adds credibility to your business
If you have your own domain name then it will have a good impact on your customers. If you are publishing your site through free web hosting site or ISP then you'll have their company name in your URL such as www.yourisp.com/-yourbusiness. This URL is not much attracting as www.yourdomain.com is. Try to buy a domain name from the popular registrar. If you are not interested to pay for your domain then how would you expect that your customers will trust you?
# Helps to build your brand
It helps to increase your brand awareness. If your domain name is similar to your company name then it will help customers to remember your brand or website name. It will also help to increase the growth of your business because if your customers remember your business name or domain then they will pass it to their friends.
# Create mobility for your internet presence
If you have your own domain then you don't need to worry about anything you can take the name with you if you are switching to your own in-house server or want to transfer web host. If you don't have your own domain name and want to switch to another web host then you have to take a new URL and it will destroy the branding that you have built before with previous address.
# Boost SEO
It helps to increase search engine ranking. If you are using high-quality content in your website then your domain name will be more recognized by search engines like Google which will gather more customers on your website.
Different Types of Domains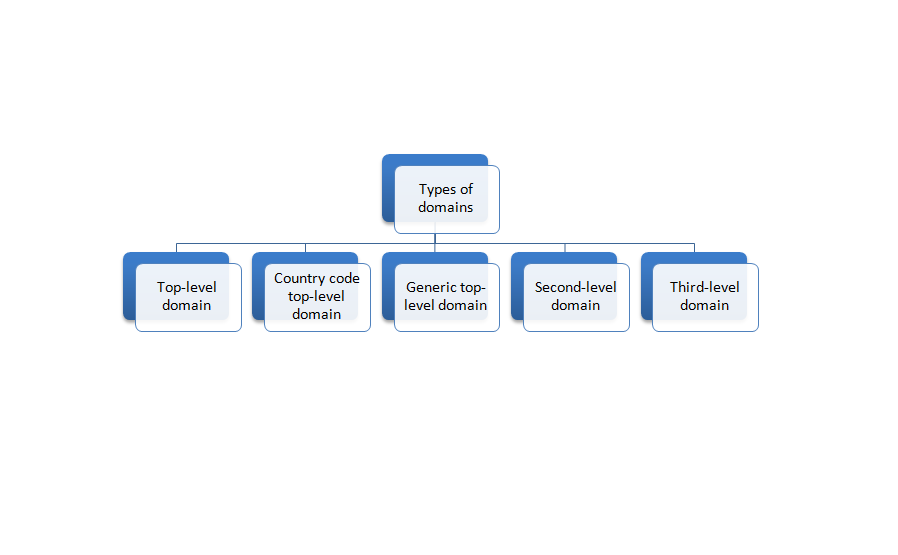 # Top-level domain
As the name suggests, it is at the top of the internet hierarchy of domain name. It is commonly referred to as TLD. There are various TLDs available. These top-level domains became known as domain name extensions. Some top-level domains are written below:
.com: It stands for commercial, it is one of the popular top-level domains. It is commonly used by most of the owners of the websites. It is used by commercial organizations. In the mid-1990s, it had become the most popular top-level domain and used for businesses, emails and websites.
.net: It stands for network, .net was initially developed for institutions that entered into network technologies such as ISP (Internet Service Provider) or an infrastructure company.
.edu: It stands for education, it was developed for education institutions. Initially, it was used for universities. In America, it was associated with only educational centres. Other countries use .edu with country code top-level domain (ccTLD).
.org: Shorthand for the organization, it is used for charity or non-profit sites. Nowadays it is used for non-profits, profit businesses, communities and schools.
.mil: It stands for the military. It is restricted to use for only military branches. It was developed for U.S military branches. It can be used with the second and third-level domain.
.gov: It stands for the government. Initially, it was created for American federal governmental agencies and personnel use only. However, these days it is used for governmental agencies, states, programs, cities, countries, and Native American tribes.
# Country-code top-level domain
Country-code top-level domain is used to distinguish one country from another. It is a two-letter domain extension. It will help to represent different geographical locations. Each country has its ccTLD. For example, if you are developing a site for a specific country suppose for India then you will use .in extension to make it clear that this website belongs to India. Similarly, .au for Australia, .jp for Japan etc.
# Generic top-level domain
The generic top-level domain works same as TLD does within the DNS (Domain Name System). We have mentioned some top generic domains such as:
Generic (.com, .org, .net, .info), domains can be used for general purpose.
Generic restricted domains such as .pro, .name, .biz etc. these can be used for a specific purpose.
Sponsored domains are used by businesses who are involved with that specific industry. Sponsored domains such as .edu, .mil, .gov, .asia, .travel, .jobs etc.
Infrastructure was used to help with DNS infrastructure, e.g. .arpa.
# Second-level domain
The second-level domain will follow top-level domain. For example, mysite.com, where my site is the second-level domain which follows the .com top-level domain. A second-level domain can be anything like it can be a business name or vendor which has registered their domain name with a registrar. The company name, brand name or project name can be an identifier of the potential customer. There is also a country-code second-level domain (ccSLD). It will be positioned after the second-level domain.
# Third-level domain
It is obvious, the third-level domain will follow the second-level domain. It will be positioned before the second-level domain and it is also referred to as sub-domain. Large companies use the third-level domain because it helps to make a difference between different departments. "www" is the most common third-level domain, these referred to a particular company server.
You'll have a clear idea about this concept after seeing this pictorial representation: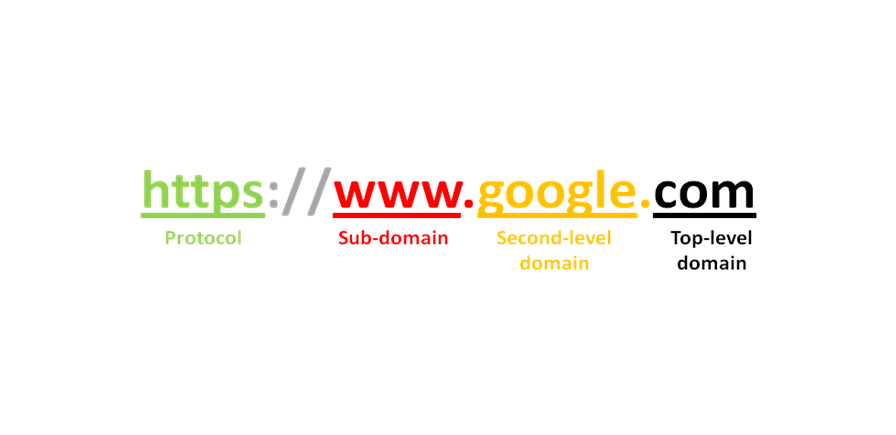 Domain Name System
Domain name system converts the domain name into the IP address by using a domain name server. This system is located on millions of servers all around the world but acts as a single unified database. Now, you may have a question, "how it works?"Right! Well, an answer is-when you enter the domain name in the browser then browser will connect with the name server to get its corresponding IP address. If you haven't previously requested for that domain name then it will first go through the server that sorts and starting with the top-level domain and moving downward, all these tasks will be performed the domain name system hierarchy. This system makes everything easier to navigate.
Things to Consider When Purchasing Domain
Before you purchase a domain there are some aspects you should consider. This part is much time consuming before the registration process of a domain name. Sometimes, it happens when you enter a domain name which you want to purchase but that is already taken by another company. Therefore, we have gathered some key points which will help you while purchasing a domain name:
# Use a domain name generator
You can use a domain name generator. It is an easy and effective method to get the desired domain name. It will also show you alternative of the entered domain name. You can choose any domain name generator. Here, we have used Instant Domain Search tool to generate domain name. Let me show you how it works: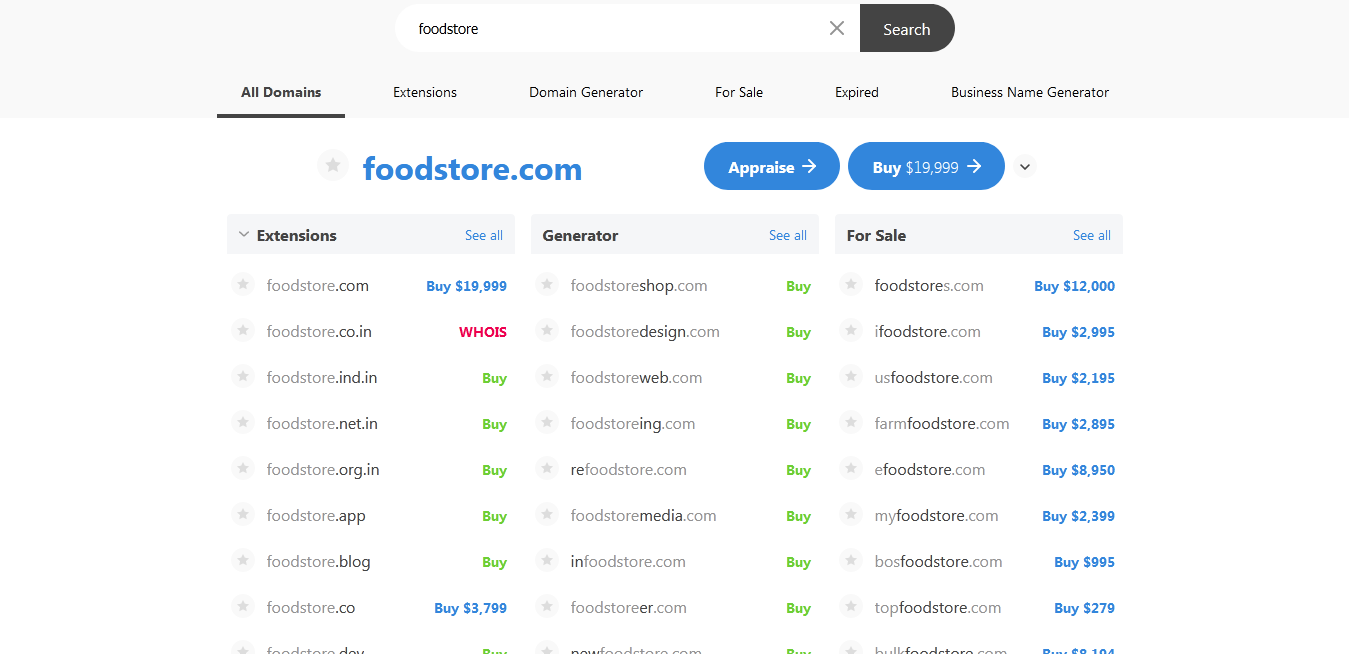 Here, the domain name "foodstore" is entered and it is available at price Rs.19999. It also shows you its alternative domain names. You can choose any domain name accordingly.
# Consider other extensions
Choosing the right extension for your business will have a good impact on your customers. Most of the customers are choosing popular extensions such as .com, .net, .org etc. But you should go with that extension which is suitable for your business. Suppose your website is country-specific then you should go with country code top-level domain. These include .au for Australia, .in for India etc.
# Consider price
The main aspect while choosing a domain is its price. If you have a low budget then it will be beneficial for you to choose a cheaper domain. Otherwise, you can choose an expensive domain. Domain providers offer different prices and discounts. So, take your time and do your research before committing to any provider.
If you buy a domain at discount then ensure that how much you have to pay on renewal time. Sometimes, the domain provider offers a discount but after one year or end of the plan at renewal time, they charge at the original price that may be costly for you.
# Set domain to auto-renew
While purchasing a domain you can easily select the length of the term, i.e. you can choose how long it will run 1 year or 2 years etc. But when your domain's expiry date comes closer, then your domain registrar will start emailing you to remind you that your domain needs to be renewed. What happens if you fail to do so, you may lose your domain or may anyone can get your domain. With this, you have to face big damage. So, choosing a set domain to auto-renew option is far better than this. With auto-renew of the domain, your domain will be allocated to you till you want it.
# Privacy of domain
Once you have registered with your domain then your personal detail will be kept in WHOIS register and anyone can see it. However, you can hide your personal detail by paying extra money for domain privacy, in this case, no one can access your personal information.
# Purchase other extensions
If you have a high budget then you can buy other extensions too. For example, if you have domain name mysite.com, then try to buy mysite.org, mysite.net etc. It will prevent from losing customers who mistype your domain name.
# Buy misspelling of your domain
It will be beneficial for you if you purchase misspelling of your domain. This will prevent losing customers. If anyone misspells then it can redirect to your website.
# Choose registrar
In the end, it is time to choose the best domain provider. While choosing domain provider here are some key points you should consider before going with any provider:
Features and service offered by the domain provider
User reviews
Cost
Customer support
Every domain provider will offer you different features and services. You can choose that provider which fulfil your requirements and consider all factors that are important to you.
How to Register a Domain Name?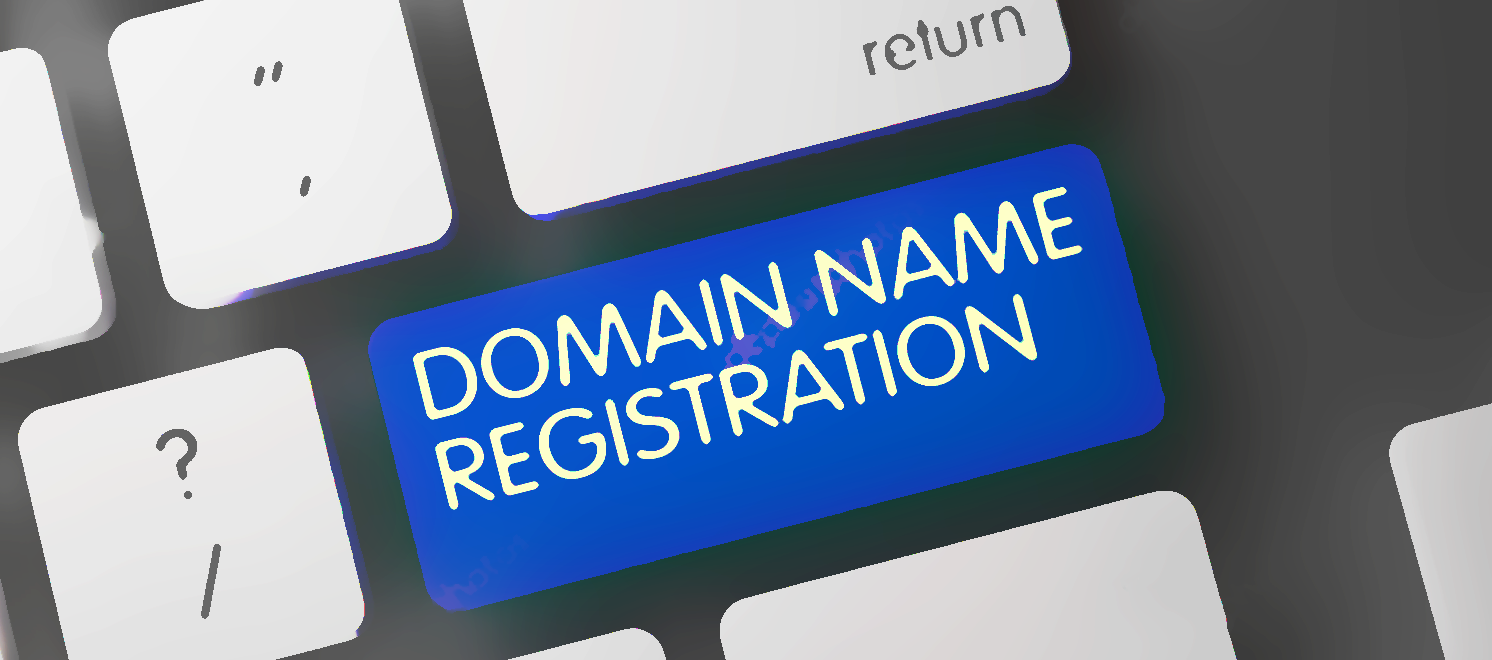 Step 1: Create your domain name
Before the domain name registration, first, create your domain name. There are various elements you should consider before registering a domain name. We are providing you with some tips while creating your name:
Try to use those words which are easy to pronounce and spell easily. Avoid using difficult words. Buying misspelling of your domain will be costly so be careful about misspelling while choosing a name.
You should use those words which describe your company so that your clients can understand what your business is about. This is beneficial to boost SEO.
It is recommended that you should use those keywords or business name that you want to rank your site for, as it can improve your site's ranking.
Avoid using numbers and hyphens
Try to make your domain name easy to remember, if you are adding numbers and hyphens in your domain name then you are making it complex to remember. So, try to use simple and easy to spell domain name.
You should do research before creating a name. First, check if there are similar domain names but with different extensions. For example, suppose a popular company has mysite.com domain name and you are registering your domain name as mysite.net then it will be difficult for you to rank your site in search engine.
Choose the right domain extension
Choosing the right domain extension is the most important part. As we know the most popular top-level domain is .com, if your website is country-specific then you should choose country code top-level domain (ccTLD).
Step 2: Check domain availability
After creating your name, check domain availability whether the entered domain is available or not. We are taking the example from the PetalHost the domain provider.
1. We have written the domain name com and it is available, nobody has taken this domain name. Now, we can proceed further. It is starting at Rs.870.99/year. Then, click Continue.
2. The next screen will open in front of you. It will ask you for domain configurations. If you want to use custom nameservers then write in the blank field, otherwise, default nameservers will be used. Click Continue.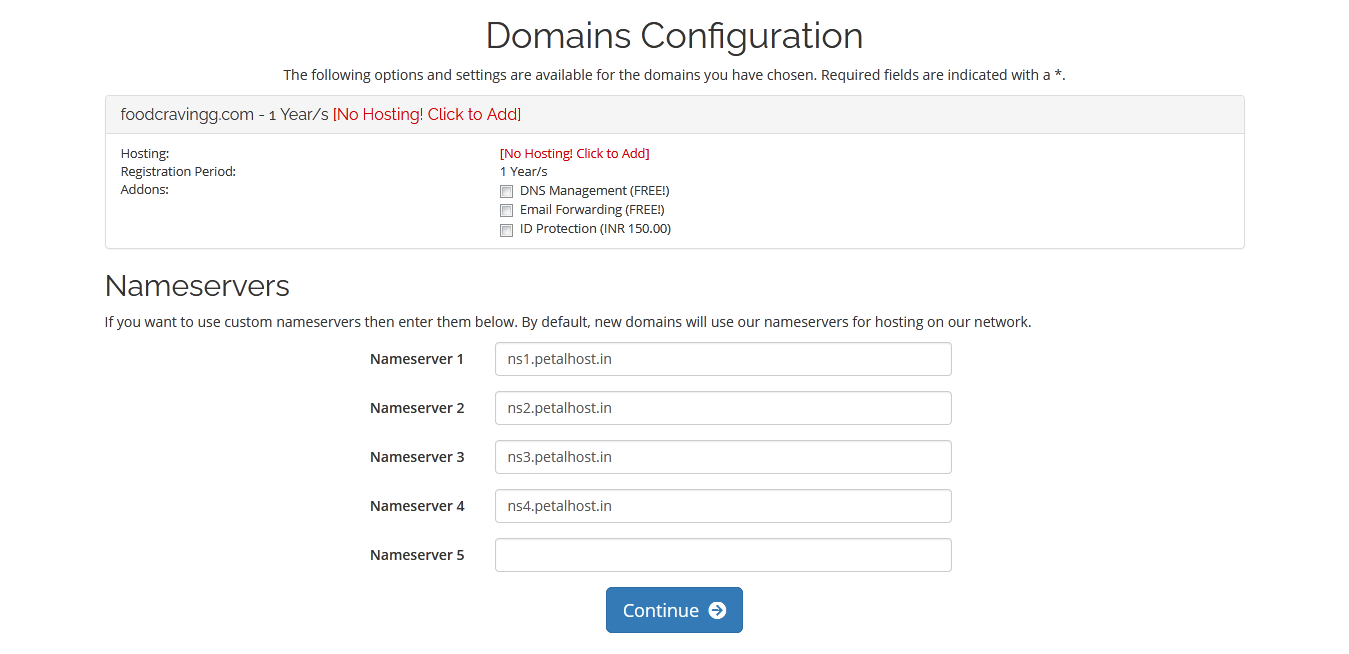 3. In the next screen, you can see the total price. You can see it in the below snapshot:

4. Below the bill, you can see the form. If you are a new user then select New Customer tab and fill the full form. Click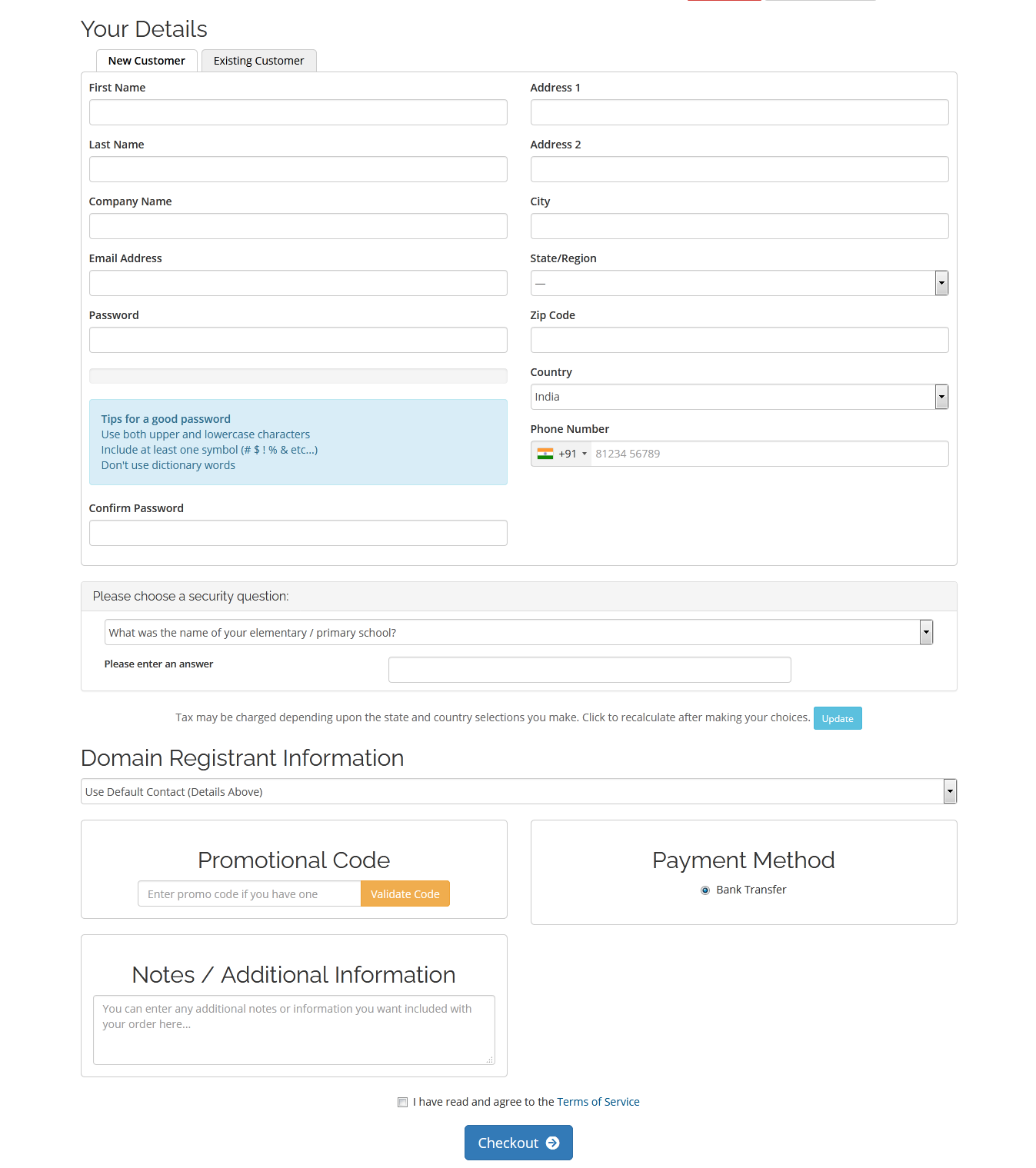 5. If you are an existing customer then select the Existing Customer tab and fill the form. Click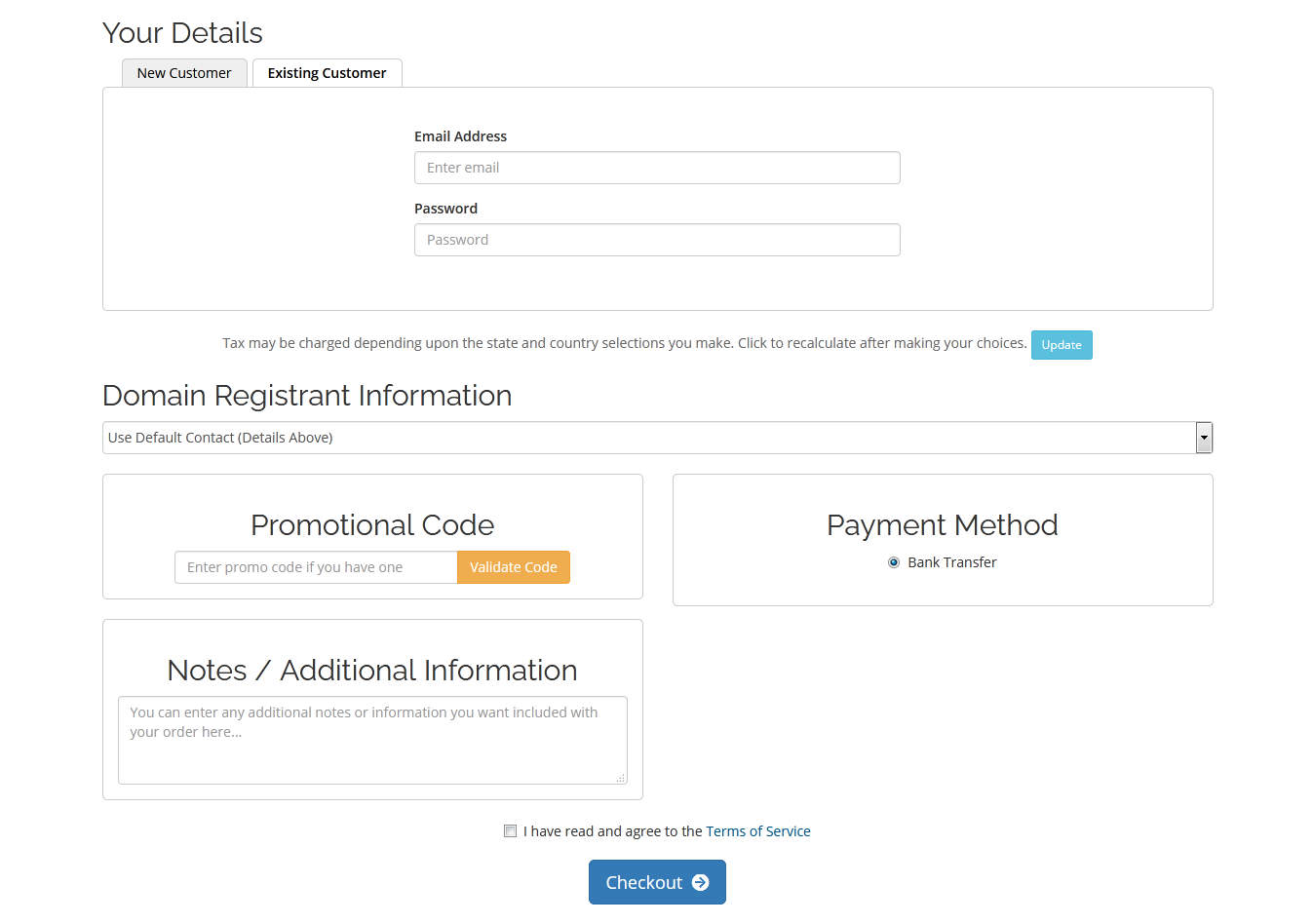 6. After completing the form you'll be asked to select the payment method you can choose accordingly. Check the "I have read and agree to the Terms of Service" and then click the Checkout
7. We have chosen PayUmoneypayment method. In the next screen, you'll have to fill the required fields. Enter your debit/credit card number etc. and click on the Pay Now Your payment will be successfully delivered and the domain name will be allocated to you.
What if the domain you want is already registered by another user?
In some cases, it happens when you search for a domain but that domain is already taken by another user. So, now the question arises, what can be done in this type of case? Well, we have mentioned two options below to get a domain you want. But remember one thing the first option will be available if the owner doesn't hide his detail and the second option may be provided by some companies. So, make sure the company you are dealing with provide the second option.
# Contact the owner to convince him to sell it
As you know that WhoIs contains all the information of the domain owner. So, you can get the contact number of the owner of the domain which you want to buy. You can convince the owner to sell it if you seriously want that particular domain. Now, I'll show the example that how it works, first take a look to the below snapshot and I'll explain it in the next section.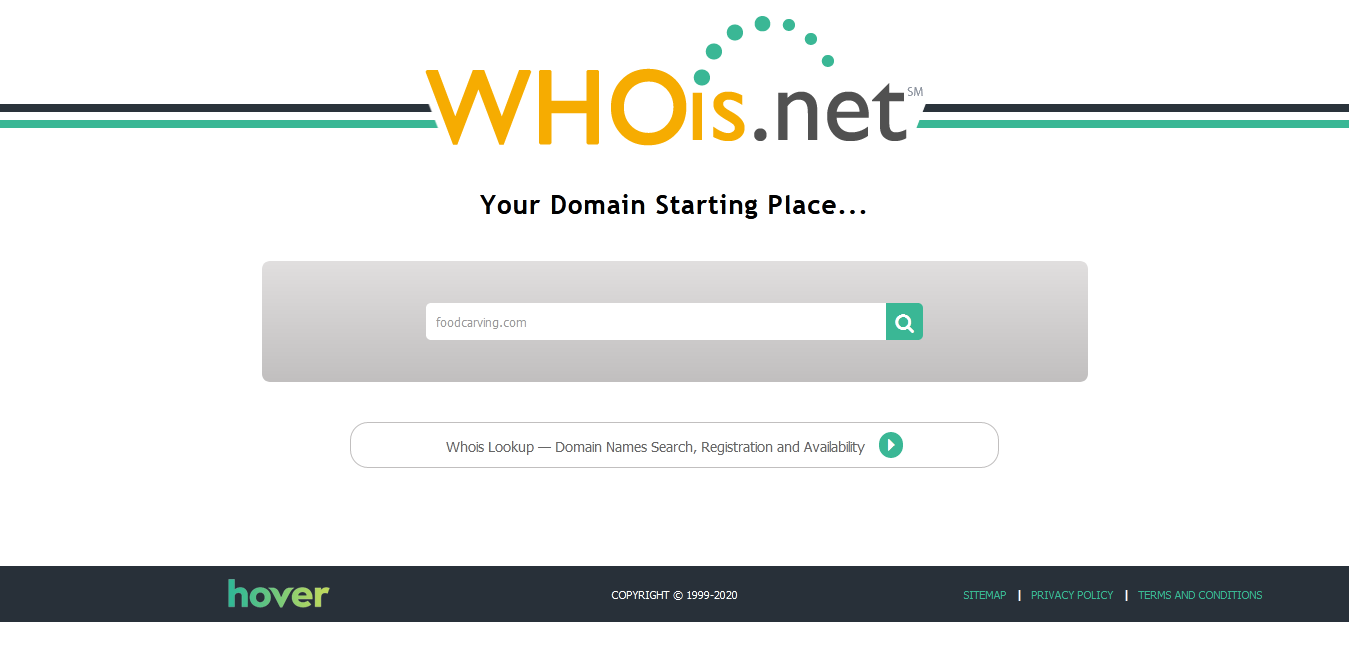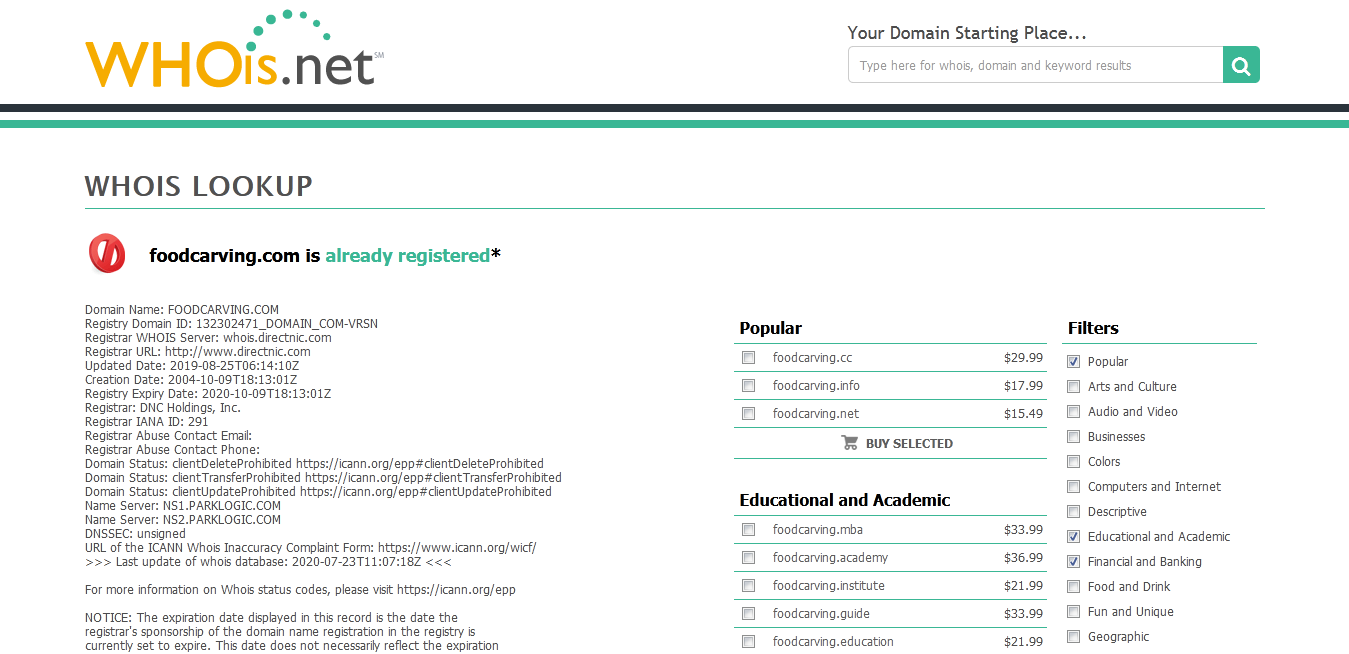 In the above snapshot, I have entered a domain name foodcraving.com which is already registered. With the help of WHOIS, you can get the full detail of the domain owner. Here, you can see the owner's detail. If you are interested then you can contact them.
Most of the users don't know about the bidding concept. But yes, you can bid on a domain whose registration is allowed to lapse.
Should we separate a domain registration from web hosting?
Most of the web hosting companies offer domain registration and some of them offer free domain registration with web hosting package. But it is recommended that you should separate these two, i.e. keep domain registration and web hosting apart. There are some reasons that you should avoid taking free domain with a web hosting plan:
# Cost
Domain registration is cost-effective especially for gTLDs (.com, .org etc.). The cost is usually low when registering a domain with a separate domain provider. The prices are offered by domain registrar are less as compared to hosting company.
# Difficult to transfer the domain
Sometimes, users move their website from one hosting company to another due to some reasons. Our needs also change over time and you may find a new hosting company which offers great features to you.
If you are using the same company for domain and web hosting then it will be very time consuming and complicated task for you to transfer your domain. On the other hand, if your domain is registered somewhere else then it will be easy for you to transfer your domain. You just need to do one thing, make your website and host it on another host. When it's ready then you can change DNS record on your domain and point to a new website.
# Don't go with a free domain name
When you complete development of your website then you will want to visit your site as live on the web. For this, you need the domain name of your website.
If your web hosting company offers you free domain along with web hosting package then it is recommended that you should choose something that you would not want for public use or you want it for development purpose and testing domain name.
In the case when you want to switch your hosting company then you don't need to move domain too. It will save you time and money. You can leave that domain without any concern.
# How to associate your domain name with your hosting company
You can point your domain to your hosting company in a simple way. Every web hosting company provides specific instructions on their help page. This process would be similar for all of them.
You need to do one thing, just update DNS record for your domain name servers to point your domain name to your hosting company. Then integrate your domain name with your account, you can do this by using domain management tools of your hosting control panel.
# Domain lose if you ever decide to change hosting company
You could lose your domain name if your domain is associated with your web hosting plan, it can occur because of "registrar locking". When your registrar does not allow you to unlock your domain or protect your domain from the unauthorized user then this status may be known as registrar locking. It occurs when it's been less than 60 days when you have started and now you want to leave this hosting company.
On the other hand, if you buy a domain from another company instead of the same company from where you have bought your web hosting package, then you can point your domain to your web hosting at any time.
# Offer you more TLD options
When you buy a domain from a separate company then you can get a variety of domains. On the other hand, with hosting plan you'll get limited options of domains. So, it'll be better to have unique and various options of domains to choose from. If you want specific domain name then there are higher chances to get it from domain provider rather than from web hosting provider.
# Domain name loss
In this digital world security is the major concern of everyone. A data breach can occur by simply having access to your domain web hosting service. If your domain is tied up with your web hosting plan and it lacks multi-step authentication then it will be easy for a hacker to steal your web content by having access. Hacker can transfer your domain name somewhere else at any time. You could lose your domain name if you forget to renew it on time. So, to avoid this type of issues buy a domain from the separate domain provider.
How to secure your domain?
As we know domain theft can occur anytime. We have to be careful about this. We have collected some key points which are important for our domain security:
# Two-step verification
Two-step verification or two-factor authentication means you have to provide two pieces of evidence to prove that you are an authorized person. It may include login confirmation or other events through phone call or text message. When you have to enter only username and password, then this is called single-factor authentication. In two-factor authentication (2FA), it requires two options out of three such as:
Something you know, such as PIN or password
Something you have, such as hardware token, ATM card or phone
Something you are, such as biometric like your fingerprint.
# How to keep the password secure?
By considering the following key points you can keep your password secure:
Don't share your password through email
Try to avoid sharing your login credential or password through email. While sharing password through mail can cause greater loss. If any hacker is sitting between you and the other party and monitoring everything then he can steal your password. In other words, phishing or man-in-the-middle attack can occur. In this type of attack, an attacker can send an email for any type of confirmation. He will pretend that you are not communicating with any fake website or user. In this way, he can steal your password.
Don't use the same password on multiple services
Avoid reusing the same password on more than one service. If you are reusing the same password that means you are compromising with your security and identity. Use a different password for different service.
Do not save your password in plaintext in your PC
Sometimes we save our password on a browser, never save your login credential in the browser. If you ever decide to sell your PC then that person will have full access to your device. He also can access your browser.
Don't use a simple password that is easy to guess. Use mathematical and complex passwords. If you are using simple passwords then they can be guessed easily by a computer algorithm. If you want to increase security then try to use a long password or randomly generated password.
Using a long and complex password may be impossible to remember. So, you can use an encrypted password manager which can help us to keep our password secure and it can store it in an encrypted vault. It can provide us with high security. As well as it makes it easy to implement password security.
# Use the secure registrar
Check the history and reviews about the domain provider from where you want to buy a domain. If you are satisfied with their plans and services only then go with that host, otherwise there are various other options available.
# Check out alerts and notices
Whenever you receive notice or alert from your domain provider, don't avoid it. You have to pay attention to alerts sent by your domain registrar, otherwise, you have to face greater loss. The notice or alert can be related to your domain renewal date etc. So, don't avoid this kind of alerts.
Best Domain Name Registrar in India
There are various domain providers. Some providers offer free domain name with their hosting plan. But for this, you have to purchase any web hosting plan. Below are some best domain providers, you can choose as per your requirements:
BigRock India
DomainRacer
PetalHost
GoDaddy India
Bluehost
ResellerClub
ZNetLive
HostGator
# BigRock India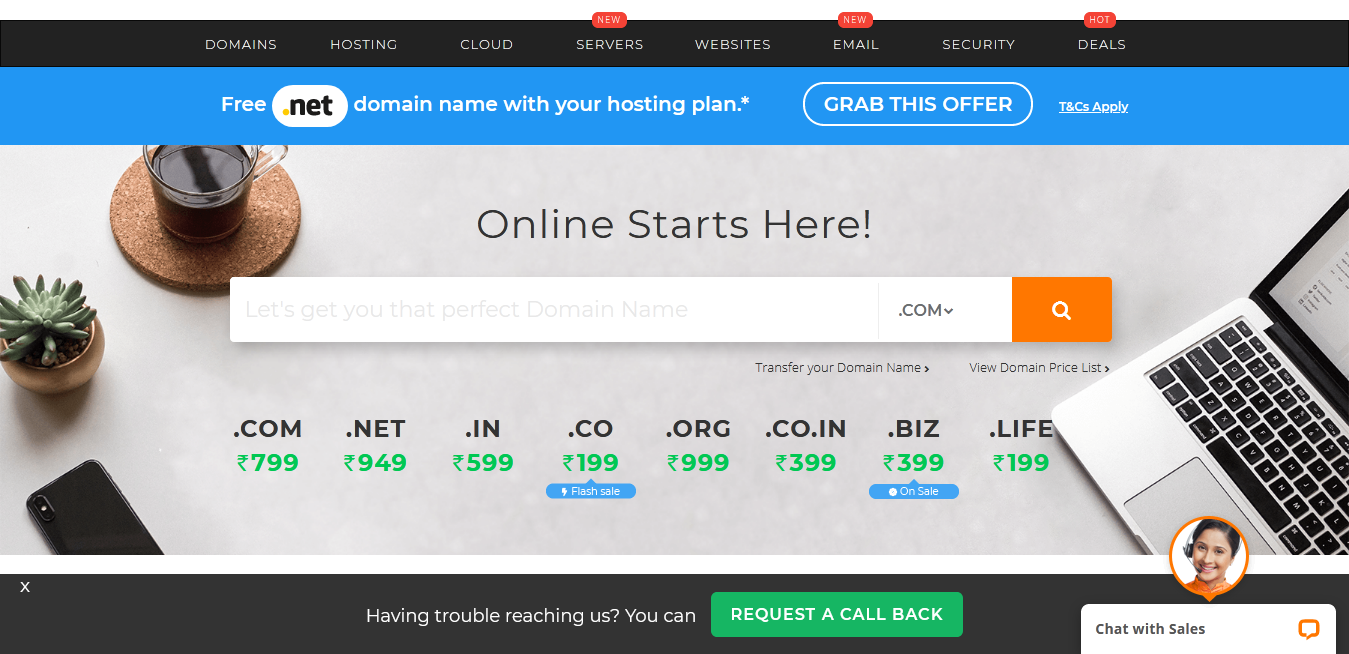 BigRock is one of the best domain name providers in India. It holds more than 6 million clients that's why it is at the position one. It offers you different plans for domain registration. Starting at Rs.99/year to Rs.999/year. Long term plans are also available, you can choose according to your requirements.
# DomainRacer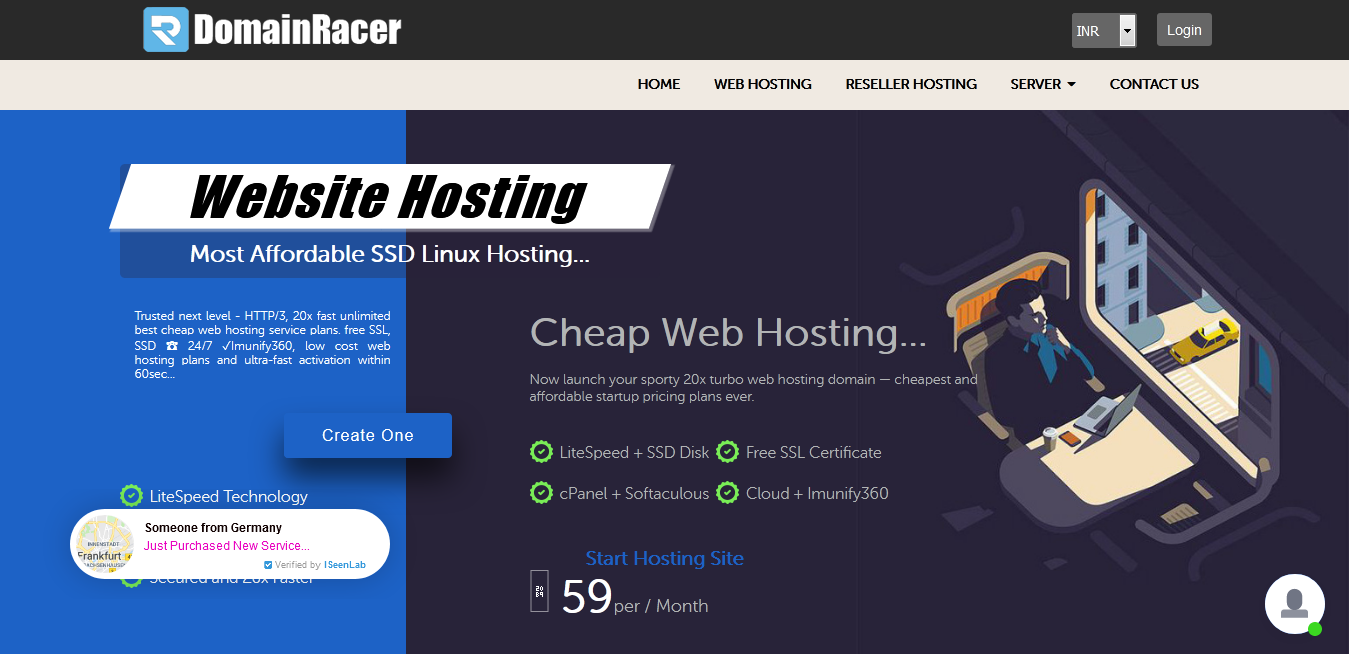 DomainRacer also provides you with a free domain with a web hosting plan. You can get a separate domain from here without a web hosting plan. It offers you a cheap plan for domain registration. You can choose a domain according to your choice. It offers four categories such as popular, gTLD, ccTLD and geography.
# PetalHost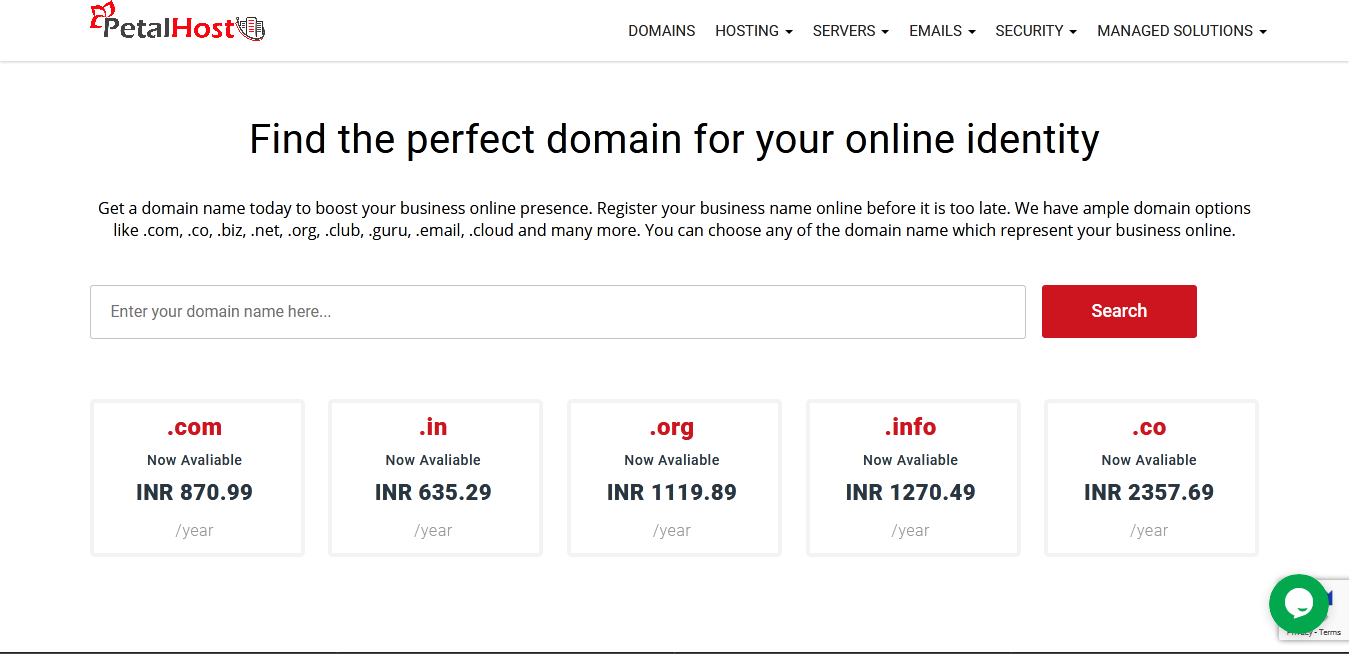 PetalHost is one of the best web hosting and domain providers in India. It offers you various web hosting services, in addition to this it also provides you domain name at reasonable prices. You can search domain here. If you are satisfied with the prices then you can go with this.
# GoDaddy India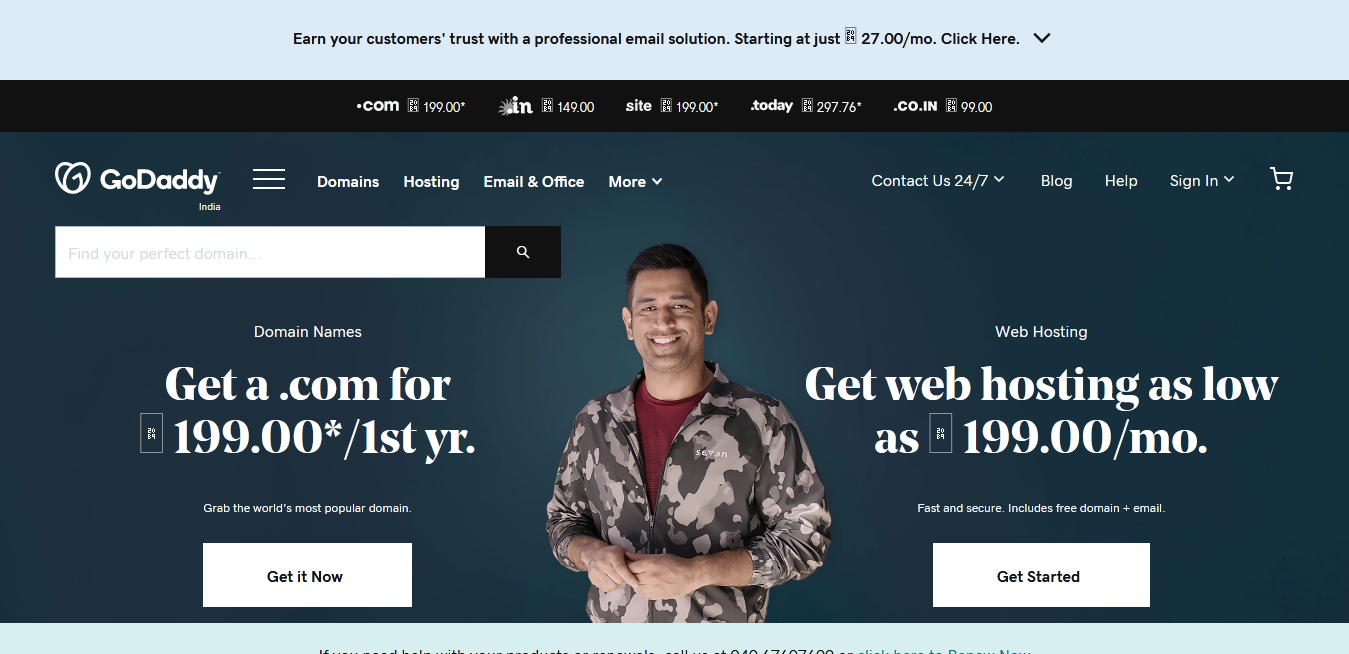 GoDaddy provides you with domain registration at reasonable prices. You can search your domain name or they will also show you some domain extensions you can go with that and check its availability. Suppose you choose .in extension and then check its availability after that enter domain name which you want to buy.
If the entered domain name is available then you can do further formalities like payment procedure etc. if the entered domain name is already taken then it will also show you some alternatives or available domain names. If you like from those domain names then you can select any one of them.
# Bluehost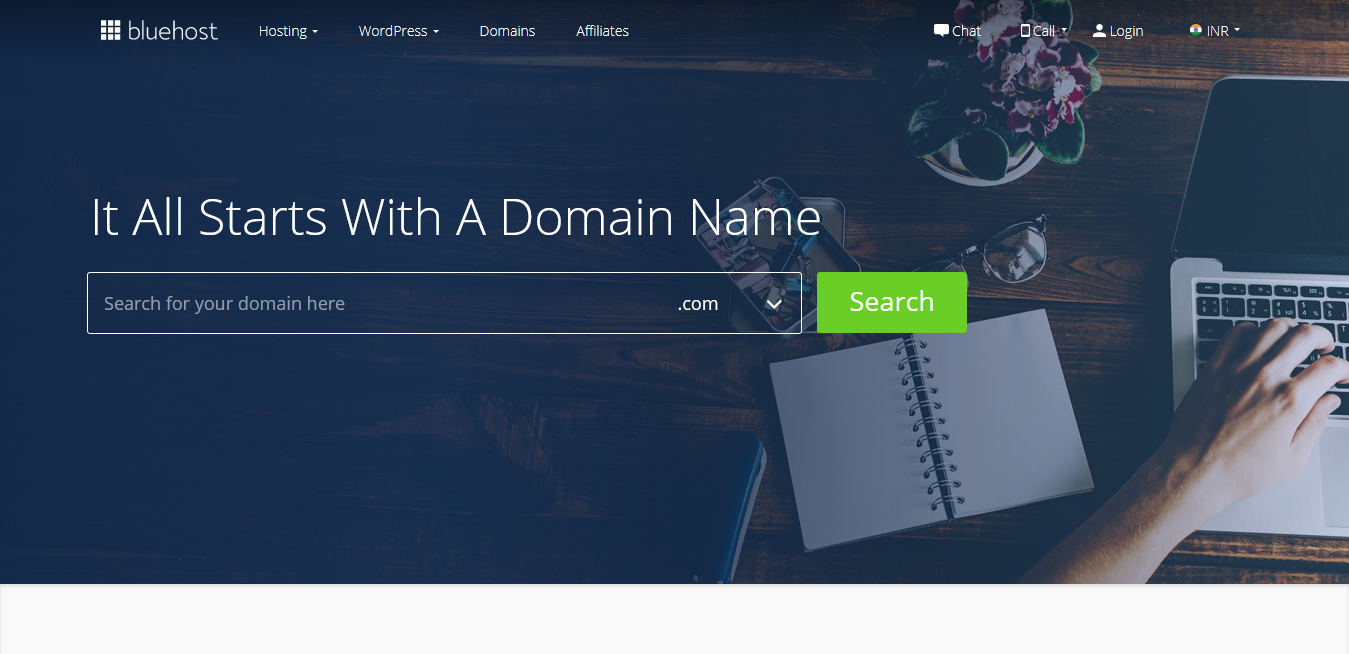 Bluehost provides you web hosting service as well as domain. You can get a free domain with a web hosting package. If you want to buy an only domain then it is suitable too. You can select any extension as per your requirements then search for the domain name. If the domain is available then add it to cart and proceed further, otherwise, you can choose another one.
# ResellerClub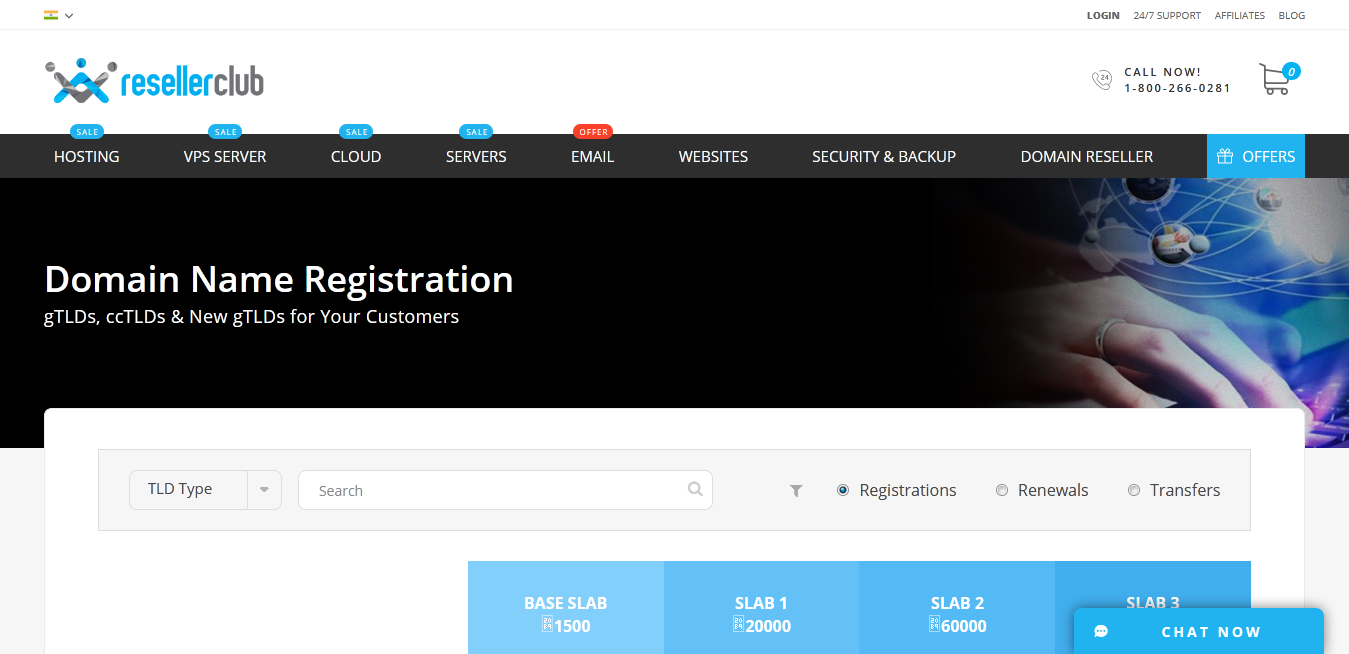 ResellerClub provides you with different types of hosting as well as domain registration, renewal and transfer. It also offers you a discount on domain names. It offers TLD, gTLD, ccTLD and new gTLD.
# ZNetLive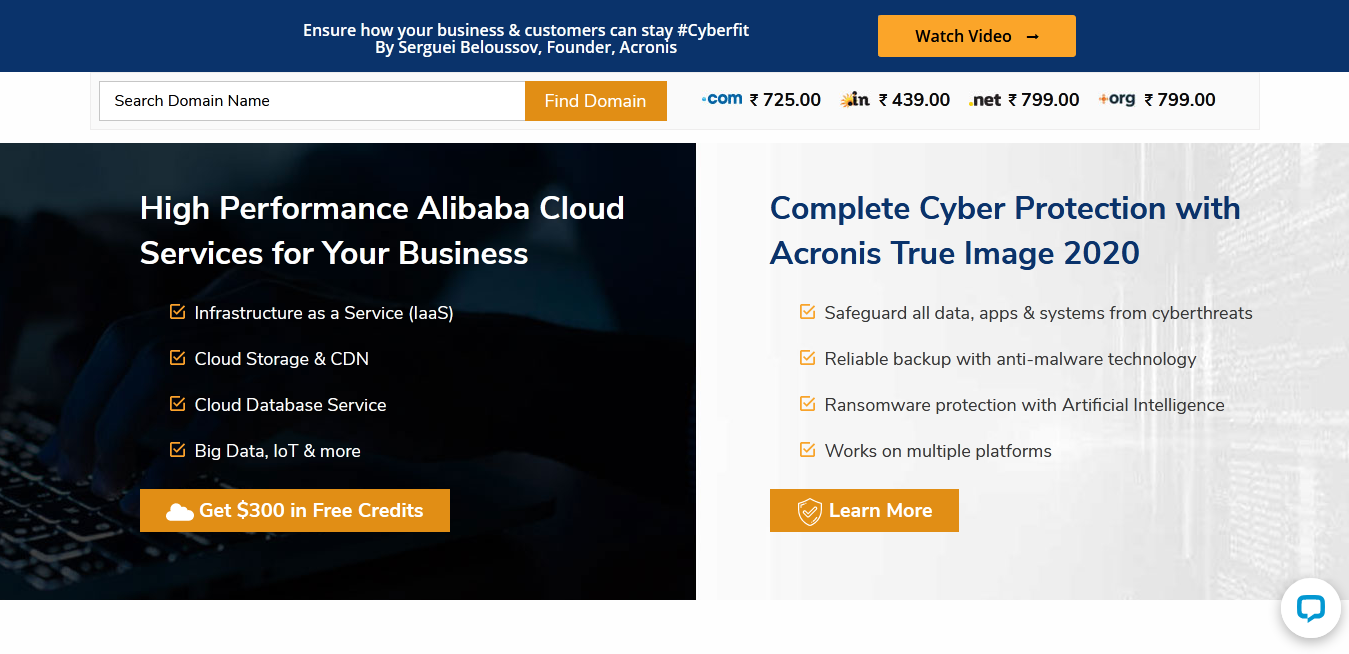 ZNetLive is another popular domain name provider. It offers you domain price list as well as domains on the sale list. You can go with any option which is suitable for you. First check domain's availability then proceeds further.
# HostGator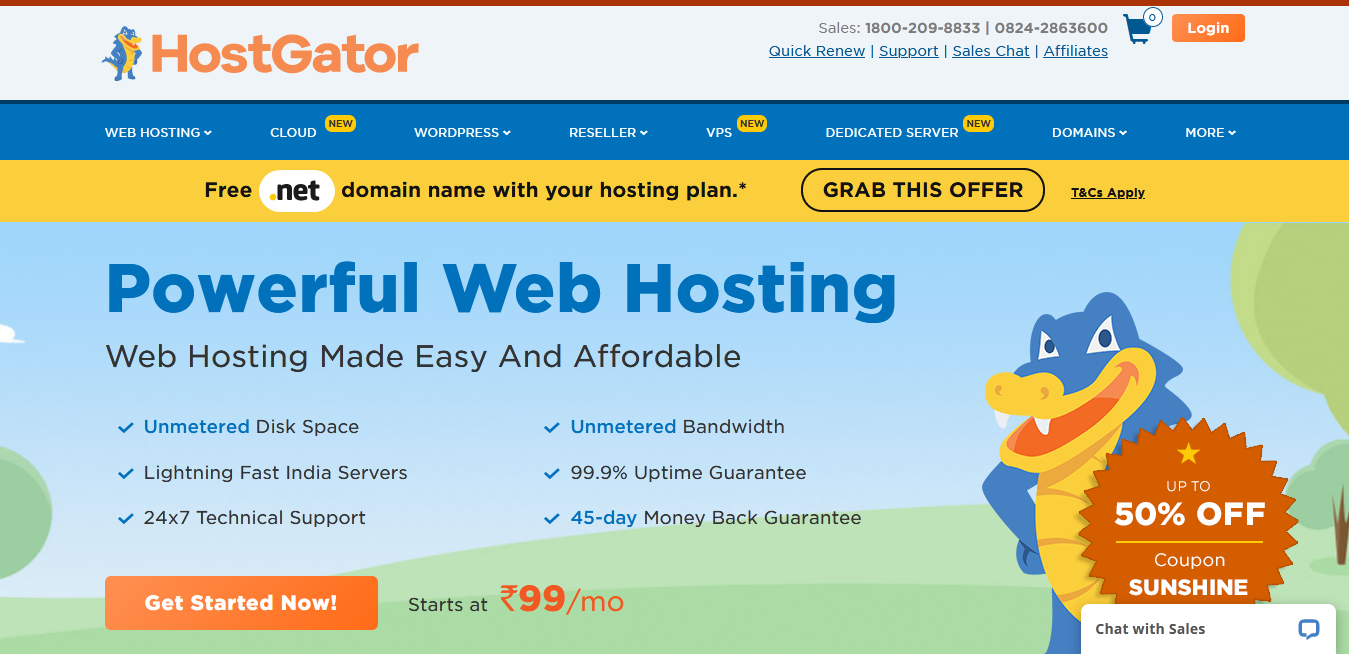 Hostgator provides web hosting services, dedicated, VPS, WordPress hosting and domain registration etc. It also provides you with domain registration and domain transfer features. You can check out available domains or can search for the required domain.